[imaioVideo v=1]
'Business' a 20-year rapflection. 
Verse 1
We inherited church in its best order
Anglicanism of the reformers
From Henry VIII and his young daughter
Tyndale and Cranmer bled and burned for her.
But somehow we just lost the plot
I know that by saying this I'll get myself shot
But before you go spread the truth near and far
Know you can't know more truth than the truth you are!
For We forget all the words of Jesus
saying love and share. Instead we do all this
ephemeral, cerebral masturbation.
That's why the church is in a state of degradation
Chorus
Let's get down to business
I don't got no time to play around, what is this?
Must be a circus in town. Let's shut this thing down
on these clowns. Can I get a witness?
Verse 2
Twenty years back God gave us a vision –
a church with room for everyone in it
Black people, white people, straight and gay
and anybody everybody turned away
Started Fight Club in 1991 –
Thought boxing the street kids would be a bit of fun
I've lost all my braincells since then because
The older I get, the faster I was
Youth Centre launched in 1994
Each year's bigger than the year before
But the battle back then never gave us any rest
we were the heroine capital of the inner-west!
But you feel like you're doing it alone
when the bishop never visits or calls us on the phone.
Would have been nice when there are bills to pay
But the pubs and club always come and saved the day!
Chorus 
Verse 3
Started unemployment programs in 1998
We were putting on staff, we were doing really great
But the bills kept coming, we were getting into strife,
then the Diocese decided to sue my wife!
2001: my dad was dying,
the lawyers were circling and the kids were crying
We made it through the courts and the grieving too
Then we bought Binacrombi in 2002.
And the work doesn't stop and we keep having kids
And I've been on medication and I've almost hit the skids
But the church keeps praying and the vision doesn't die
And we've always seemed to have just enough to get by
Though we lose so many friends along the way!
They've been deported or departed or sent to Long Bay!
But God keeps adding new people to the team,
including monks and sheikhs and everyone in between!
Twenty years and we haven't disappeared
though I get older and slower and increasingly weird.
But the wind keeps blowin' and so with the spirit –
keeps blowin' and blowin' and taking us with it.
Chorus
First preached by Father Dave at Holy Trinity Dulwich Hill 2010.
See here for the the official music video, image stills, lyrics, full version audio download and original live video.
Don't forget to tweet, like and subscribe.
Rev. David B. Smith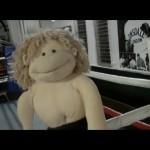 Parish priest, community worker,
martial arts master, pro boxer,
author, father of four.
Can't view the video, try this link