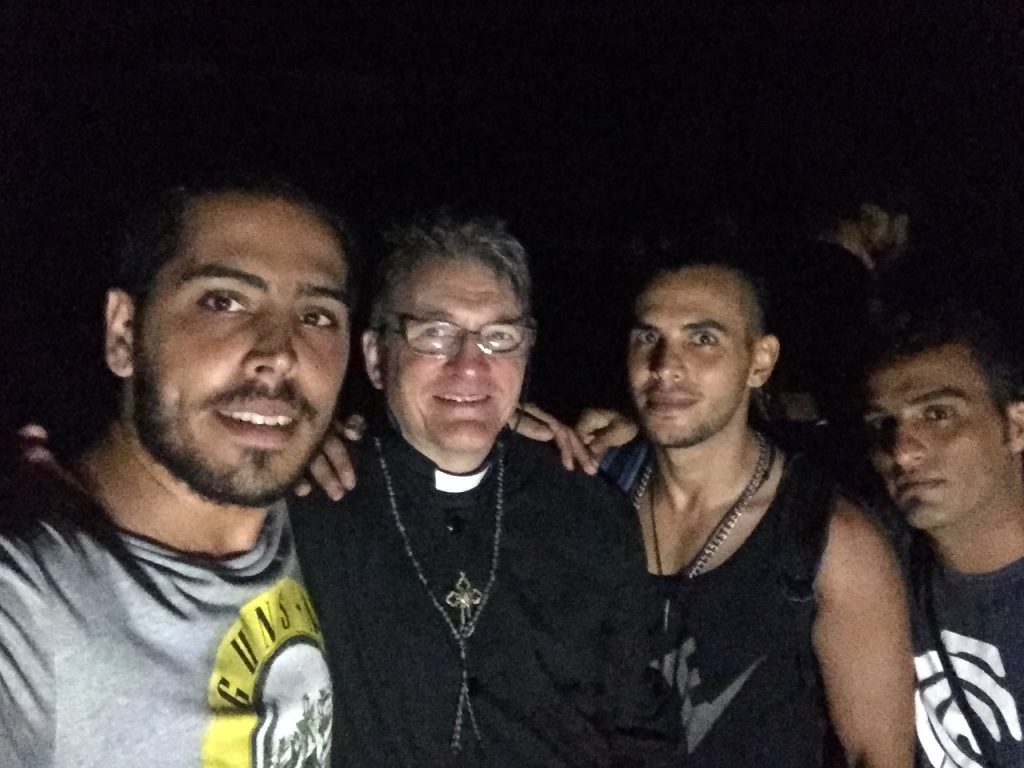 The following press release is courtesy of GetUp!
Religious leaders secretly travel to Manus Island Detention Camp, condemn Australian government inaction
MEDIA RELEASE: Thursday, November 23 2017
Australian Christian leaders Pastor Jarrod McKenna and Anglican Parish Priest Father Dave Smith returned on Tuesday from Manus Island, where they met Manus church leaders and spent nearly 24 hours in the detention camp with the 340 men detained there.
The religious leaders spent five days on Manus Island in Papua New Guinea, and were smuggled into the camp by supportive locals. Father Dave, priest of Holy Trinity in Dulwich Hill, spent seven hours in the camp, while Mr McKenna, pastor of Perth's Cornerstone Church, remained there for 25 hours after the navy disrupted his first attempt to leave.
The pair heard why the men in the camp fear to leave it and filmed interviews with many refugees and asylum seekers (available below).
Speaking of his time in the camp, Mr McKenna stated: "The kindness the men in the camp showed us, when our nation has been so cruel, was so overwhelming. They fed us, despite having so little food, they washed our feet when we fell in the mud, despite having so little water. As a Christian, it overwhelmed me. I wept with love."
"The news yesterday that police have forcibly removed people from the camp, and arrested journalist Behrouz Boochani, who we spent hours with in the camp, horrifies me."
"The police have now destroyed all of the men's possessions, food and water. It is even more obvious and urgent that the Australian government must evacuate these men immediately to safety in Australia," Mr McKenna said.
Anglican priest, Father Dave Smith, said: "I have enormous respect for the brave men we met in the camp. They find their strength in community, in supporting each other, and I would be proud to have them as neighbours.
"But the Australian government is attempting to break up their community, destroy their support structures, in order to force them to endure years more of indefinite detention. It is absolutely inexcusable."
"Churches across Australia have been deeply concerned for a long time about what's happening on Manus. But because of government secrecy and misinformation, they did not know the truth."
"I went to Manus so I could show Christians in Australia what is really happening there Now, I believe we will see a very strong and unified response. Churches will demand safety and justice for these people."
Both men say the situation in the Manus camp is critical, and only the Australian Government has the capacity and responsibility to ensure the refugees and people seeking asylum are safe. All international and Australian observers agree that the only safe thing to do is evacuate these men to Australia.
Pastor Jarrod McKenna and Anglican Parish Priest Father Dave Smith are available for interview in Sydney.
A small selection of vision of their trip is available here, further footage can be provided on request:
Media inquiries: Zoe Edwards: 0400 144 794
The trip was supported by GetUp members, who donated funds to cover travel, insurance, and associated costs for the delegation.