It was an enormous privilege to be involved in the recent ANZ 'Inspiring Locals' project. It's meant having my portrait painted by world-renowned graffiti-artist, Luke Cornish (who happens to also be a personal friend of mine). 🙂
Even though I've watched Luke at work, I still really can't work out how he puts it all together. What that man does with stencils and spray cans goes well beyond anything I'd previously associated with graffiti!
If you haven't seen the mural, it's right in the centre of Martin Place – the heart of the Sydney CBD. I feel like I should be spending more time in there – setting up a confessional booth right below the pic or something like that. I'm sure I'd do a roaring trade! 😉
I included below the interview that Luke and I did on Channel Seven's Sunrise program, and also a couple of images of the mural.
I notice that a lot of my friends have been getting their pics taken at the mural so for those who have taken a pic, I've installed a plugin that allows you to upload an image with your comment. Please add you pic! 🙂
One thing few people would know is that we originally planned for an image of me as a priest. I'd told Luke that I didn't really feel comfortable being immortalised as a boxer since, quite frankly, I didn't think I deserved to be. I'm a priest by vocation but really only a wanna-be boxer.
What you see above is two of the virtual mock-ups that Luke created.  Apparently he had already cut the stencils for one of them when he was told that they wouldn't permit an image of a priest in the middle of Martin Place! Whether it was the Council or the sponsors who blocked this, I don't know. Either way, the final image turned out to be much more dynamic and sexy than the one I had in mind, so who am I to object. 😉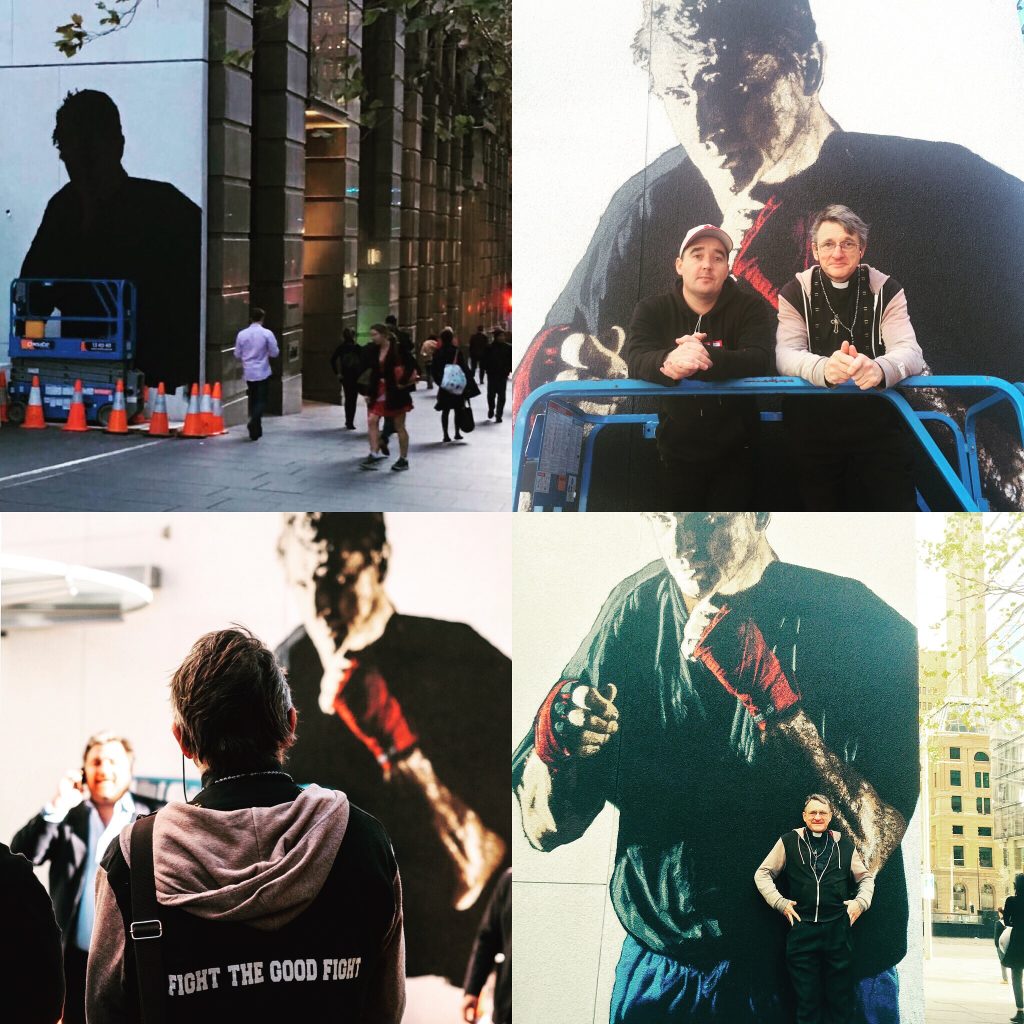 Please use the button below the comment box to upload your image posing in front of the mural 🙂