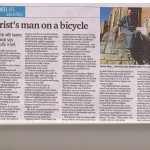 He's familiar with heaven but this monk says Sydney traffic is hell.
A wiry middle-aged monk hitching up his ankle-length grey habit while pedalling an old bike in and out of chaotic traffic has become a familiar sight in Sydney's inner west.
This is Father Elias, a brave and contented man.
Brave because riding an old purple Malvern Star women's bike in this get-up, with feet in sandals and a too-small crash helmet perched on his close-cropped noggin, makes Elias stand out.  This can make you the target of road rage ratbags, or those whose habit has nothing to do with a religious dress code.
Contented, because he simply loves living in this polyglot community, even though the traffic rivals the worst he encountered in seven years of working as a priest in Lithuania and Russia.
Elias, 49, belongs to the French-headquartered Community of Saint John, a Catholic order founded in 1975 and which he joined as a religious brother 30 years ago.
A Dutchman with a wry sense of humor and a down-to-earth attitude to life, he also has ample spiritual and philosophical depth.  His order considers this might be applied to practical ways of sorting out anti-social behavior among adolescents, drug and alcohol-related crime and working with jail inmates.
Which is how he happened to turn up in the inner west six months ago, unannounced and traveling light.  He seems to run on a trustingly free rein from his order's home monastery in the French countryside near Lyons.
"It was a boarding school 100 years ago, then it became a jail," he says with a grin.  We're talking in a poky back office at Holy Trinity community youth centre and boxing club in Dulwich Hill.
This is as real as it gets in neighbourhood facilities for teenagers who have troubled lives – boxing ring with sagging ropes, half-sized basketball court, punching bags and weights, pool table, snack counter, a few old computers and printers, well-worn sofas, everything donated or worked for within the Anglican parish.
The walls are papered with posters and pages torn from magazines including those reporting the professional ring exploits of "Fighting Father" Dave Smith, the Anglican priest who took to boxing and martial arts 20 years go to help confront his own life's challenges, and to fund a youth outreach program that has cleaned up- and cleaned out – much of Dulwich Ill and Marrickville's low-life.
Leyds first learned of Father Dave's philosophies and achievements with at-risk kids through the latter's much –visited website and book "Sex, the Ring and the Eucharist".  Leyds was in his sixth year as a priest-chaplain to the Saint John Brothers attached to the Lithuanian army.
Eventually he got onto a flight to Sydney when he lobbed with few possessions, among them the British driver's licence he'd earned 30 years ago after graduating from the Spartan Atlantic College in Wales. "My father, who was a Shell oil executive, sent me to this very tough English boarding school from Holland because he admired the character-building philosophies of its founder, Kurt Hahn, who also started Gordonstoun," he says.
"He told me he didn't care what education I came home wit5h but I had to bring an English licence with me because it's the hardest and best to get in the world."
That licence, and the driving skills that go with it, saw Leyds and a beat-up little Mazda survive thousands of kilometres of awful roads and no-rules drivers in Lithuania, Russia and Chechnya before he was met by Dave Smith at Sydney Airport one Summer night.
The Fighting Father promptly raced him into the Entertainment Centre and an Anthony Mundine fight extravaganza, where he was a corner man to heavyweight Solomon Haumono in a preliminary bout.  Big Sol helps out at Trinity's youth centre between fights.
That British licence hasn't yet been good for negotiation Sydney traffic.  That's why Leyds reckons its safer on the Malvern Star. "Driving in Sydney reminds me of Russia," he says.  "Wide roads, very rough in places, cars going everywhere, nobody seeming to have any rules, scary."
He had to get off his bike and revert to Russian Roulette driving around Sydney in a rented people mover in the lead-up to World Youth Day.  He ran a shuttle service for visiting members of the order.
Elias boards with Smith, his wife Ange, and their two youngsters at the Holy Trinity rectory, across the road from the youth centre.  "Dave's teaching me boxing coaching, but I'm moving away from that as something for youth problems in Holland.  I'm thinking more of adopting some of Dave's methods and philosophies for my brothers when I go back to Europe in a year or so.  Where it takes me, the Lord knows."